>
Professional Certificates
Leadership Certificates
Earn industry-recognized certificates from FranklinCovey and build your reputation as a difference maker.
Credentials that matter.
There are the skills that you need for one job. And then there are the skills you need for every job.
FranklinCovey's leadership certificates embody the marketable and transferable skills that are vital to success in any industry or career, and these certificates are recognized by employers worldwide. By demonstrating your mastery of essential leadership, communication skills, and career skills, you will put yourself in an optimal position to get hired or promoted, and thrive in any workplace.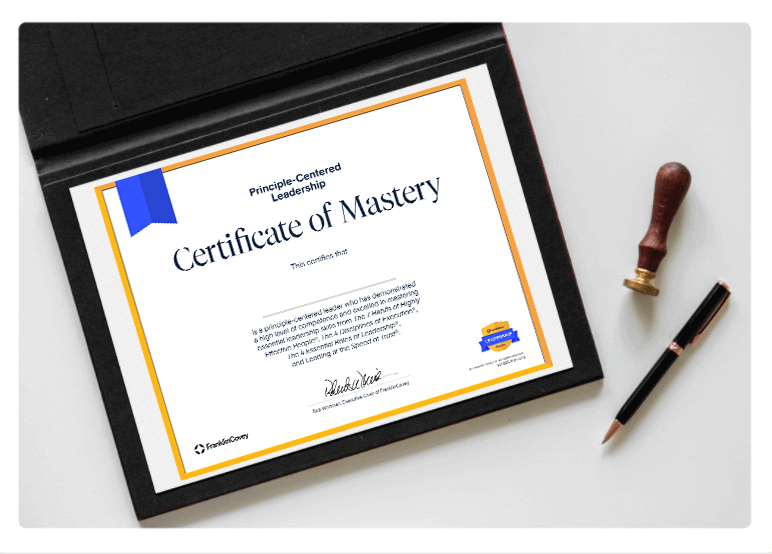 ---
Testimonials
Build a Workforce Full of Leaders
---
"The more we can arm the incoming workforce with these leadership and communication skills, the better they will be in long term. The FranklinCovey name and quality of the programs is sufficient to carry the weight of high level success."
Jerry K., Manager, Public Infrastructure Company
"When I look at individuals joining our teams, many of whom I mentor or coach, these soft skills (leadership, communication, conflict resolution, etc.) are missing. FranklinCovey certificates listed on a resume would be a big plus and could be that differentiator to set them out from other candidates."
Carla S., Human Resources, Large Hospital System
A novel approach to assess essential skills.
FranklinCovey's certificate program is multi-faceted and includes three different types of certificates: completion, knowledge, and mastery.
Completion Certificates are awarded to learners who complete a course. Knowledge Certificates assess the knowledge and higher-order thinking of a learner around the key concepts of a course and are awarded to those learners who pass a multiple-choice exam.
The most valuable certificate FranklinCovey offers are Mastery Certificates. These certificates are awarded to learners who not only pass knowledge exams, but also demonstrate real-world application and "mastery" of program content through a portfolio submission.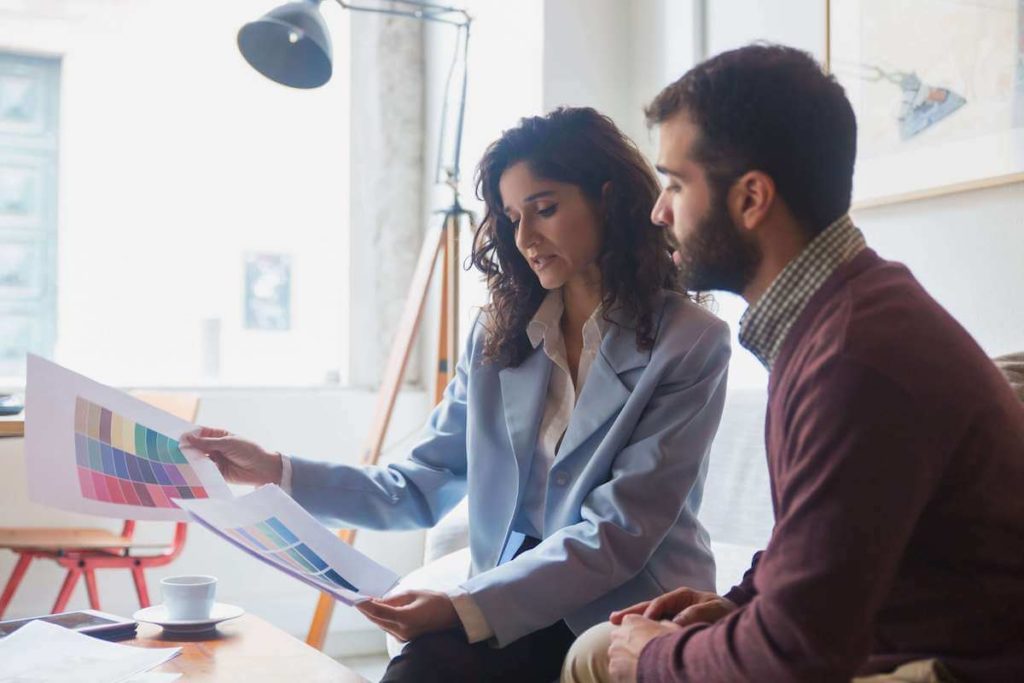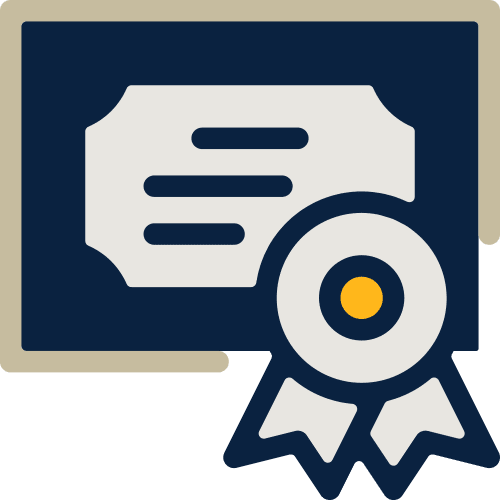 Completion Certificate
(Basic)
Certificates of Completion signify that a learner has completed a course. It does not test for knowledge, competence, or impact, but rather completion.
Completion criteria can vary, but usually involves learning, assignments, and peer-based accountability.
View Certificates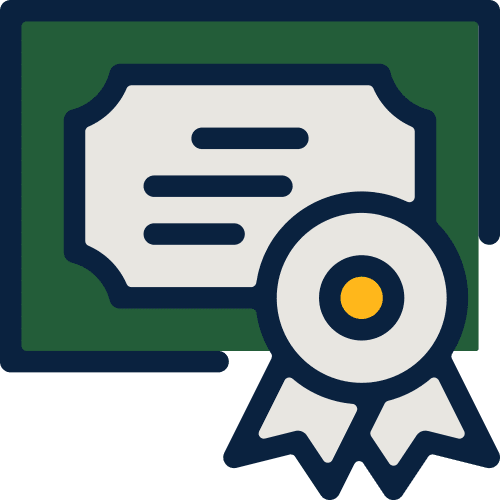 Knowledge Certificate
(Intermediate)
Certificates of Knowledge signify that a learner has demonstrated a firm understanding of the key concepts of a course by passing a multiple-choice exam.
Each knowledge exam is multiple choice, takes approximately 60 minutes to complete, and is monitored with the support of a 3rd-party proctoring service.
View Certificates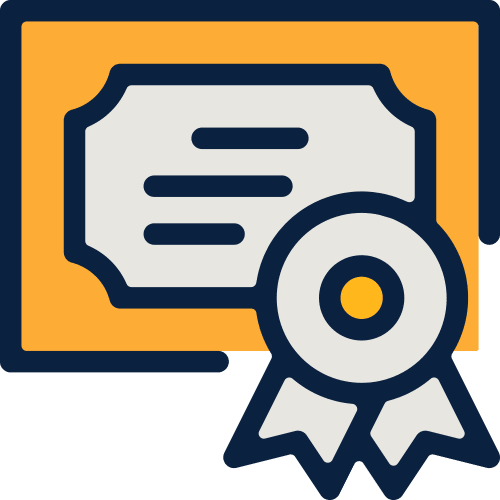 Mastery Certificate
(Advanced)
Mastery Certificates are the most highly regarded certificates and signify that a learner has achieved real-world competence and has delivered exceptional results and impact.
Mastery Assessments are offered at the program level (programs require multiple courses) and evaluate a person's knowledge, skills, competence, and results through BOTH earning knowledge certificates PLUS the submission and presentation of a work portfolio.
View Certificates
Earn a certificate in emotional intelligence.
The 7 Habits empowers individuals with the world's most widely used and influential framework for building emotional intelligence and personal effectiveness. Show evidence of your emotional intelligence by earning a Knowledge Certificate from FranklinCovey.
Earn a certificate in time management.
The 5 Choices empowers individuals to make selective, high-impact choices about where to invest their valuable time, attention, and energy. Show evidence of your productivity by earning a Knowledge Certificate from FranklinCovey.
Earn a certificate in leadership.
The 4 Essential Roles empowers individuals with the most critical competencies of leadership, including how to engage one's team to create and sustain results. Show evidence of your leadership by earning a Knowledge Certificate from FranklinCovey.
Earn a certificate in building trust.
The Speed of Trust empowers individuals to enhance their credibility, build and restore trust with others, and increase organizational speed. Show evidence of your ability to build trust by earning a Knowledge Certificate from FranklinCovey.
Earn a certificate in inclusivity.
Unconscious Bias empowers individuals with the knowledge and skills to minimize the negative impact of bias on self and others and connect with people from all backgrounds. Show evidence of your inclusivity by earning a Knowledge Certificate from FranklinCovey.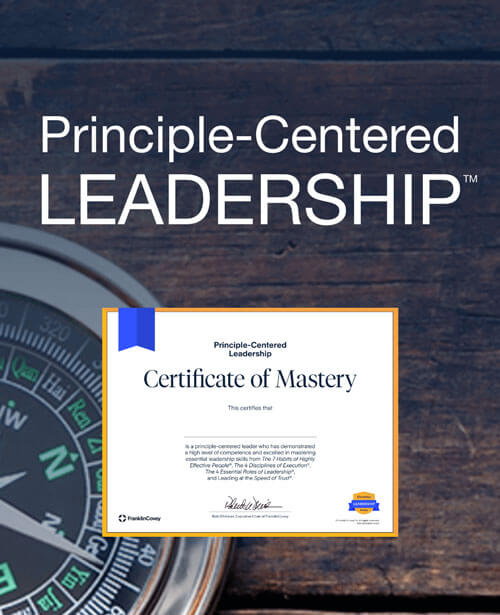 Become a better leader.
Our flagship program combines 4 of our best courses to teach over 30 skills of effective leadership and prepares a person to successfully lead others in roles such as supervisor, manager, director, and vice president.
View Program
The global authority on leadership.
For over 30 years, FranklinCovey has trained leaders from the most respected organizations in the world, including Fortune 500 companies, government agencies, and educational institutions.
About FranklinCovey
300K
leaders in 17,000 work units of 1,100 organizations have been studied/interviewed.
60M
copies of bestselling books have been sold, including The 7 Habits of Highly Effective People®.
150+
countries throughout the world have organizations implementing courses from FranklinCovey.
80%
of Fortune 500 organizations have worked with FranklinCovey.