Time management for the 21st century.
The 5 Choices is based on the latest neuroscience research and decades of experience in time management.
Every day brings a crushing wave of demands: a barrage of texts, emails, interruptions, meetings, phone calls, tweets, breaking news—not to mention the high-pressure demands of our jobs—which can be overwhelming and exhausting. The sheer number of distractions can threaten our ability to think clearly, make good decisions, and accomplish what matters most. The 5 Choices is time management redefined: through five fundamental choices, this course increases the productivity of individuals and empowers you to make selective, high-impact choices about where to invest your valuable time, attention, and energy.
"The secret to feeling and being highly accomplished is to rewire our brain to make intentional high value decision, have very focused attention, and have the sustainable energy to make it all happen."
Kory Kogan, Author of The 5 Choices: Path to Extraordinary Productivity®
"Time management, project management, and communication skills are the three core competencies in the 21st century for knowledge workers."
Kory Kogan, Author of The 5 Choices: Path to Extraordinary Productivity®
"All the research shows that every decision you make depletes energy from your brain that can be put to better use."
Kory Kogan, Author of The 5 Choices: Path to Extraordinary Productivity®
"Productivity is helping people get to their own potential. It's when people go to sleep at night and they feel like they've done two or three things that were very important to them that day."
Kory Koga, Author of The 5 Choices: Path to Extraordinary Productivity®
"It is important to implement a process of discernment. You have to create guidelines around all of the incoming (stimulus)."
Kory Kogan, Author of The 5 Choices: Path to Extraordinary Productivity®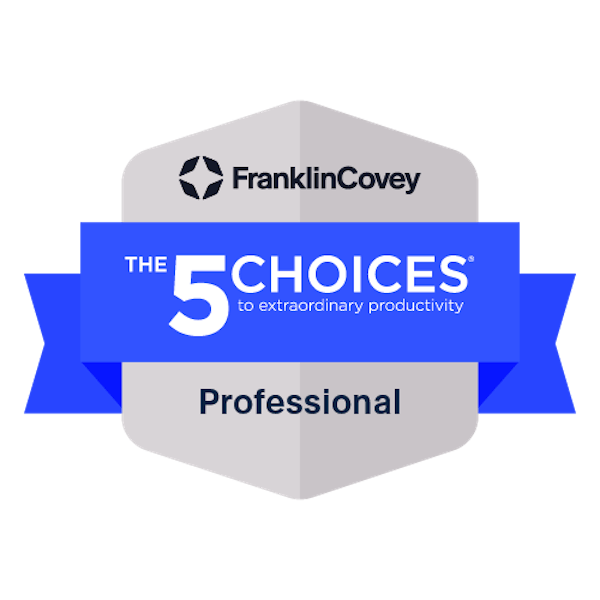 Earn a Certificate
Complete this course and assessment to earn The 5 Choices to Extraordinary Productivity® Professional Certificate to add to your resume and profile.
View Certificate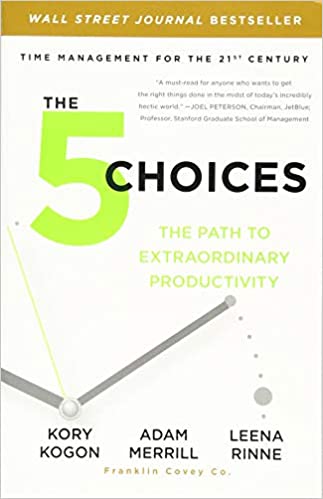 Based on the Book
The 5 Choices: The Path to Extraordinary Productivity book was written by Kory Kogan, Adam Merrill, and Leena Rinne. It was published in 2016 and is a Wallstreet Journal bestseller on time management.
Download Book Summary
Course Objectives
The course will develop leaders with the following outcomes:
Consciously discern the important from urgent or less important activities.
Clarify what extraordinary looks like in your current, most important roles.
Master daily and weekly planning to ensure attention, energy, and execution on top priorities.
Establish a reliable system to manage appointments, tasks, contacts, notes, and documents.
Turn software solutions into a productivity workflow engine.
Understand the impact of brain health on day-to-day performance.
Use the 5 Energy Drivers to increase and sustain energy throughout the day.
Productivity Skills
The following productivity skills are addressed in this course:
Time Management
Goal Setting
Goal Achievement
Productivity
Planning
Self-Discipline
Wellness
Responsibility
Personal Vision
Course Schedule
Experience the 5 Choices online course by completing eight learning modules at your own pace. The course will not only increase your productivity, but also provide a renewed sense of engagement and accomplishment through time management principles.
Expert Instructors
FranklinCovey consultants, experts who work with organizations around the world, teach course content.
View Instructors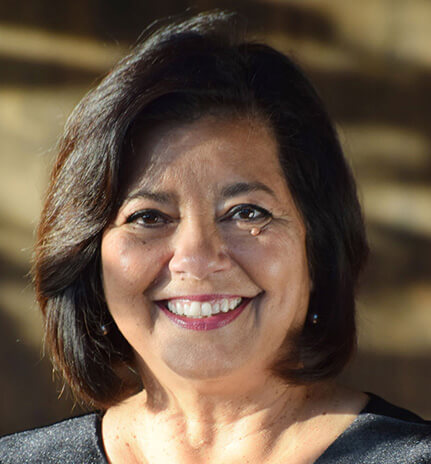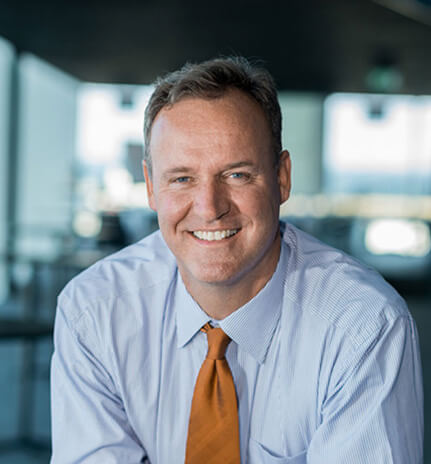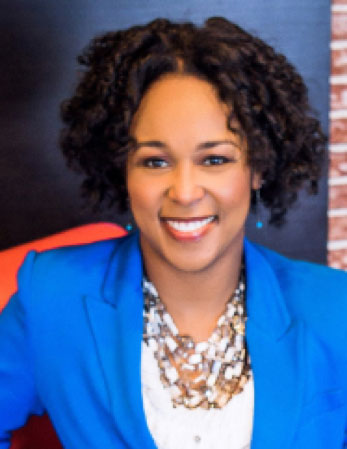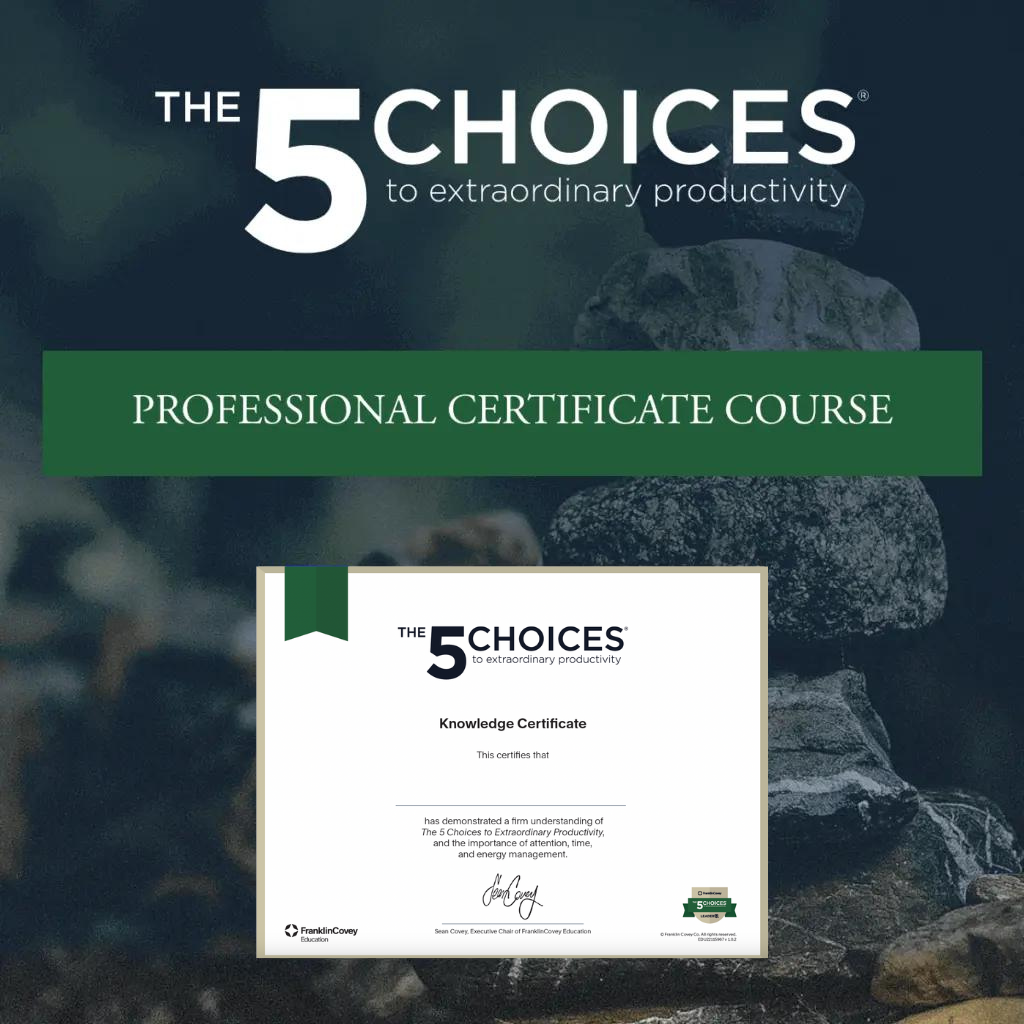 5 Choices Self-Paced Course + Knowledge Certificate
Demonstrates a firm understanding of The 5 Choices to Extraordinary Productivity®, and the importance of attention, time, and energy management.
8 Modules (3-4 Hours Per Week)
12 Month Course Access
Course Assessment and Certificate
Endorsements
"The 5 Choices provides the methods to get the right things done, not try to get everything done, and to feel like you made a meaningful contribution at the end of the day."
Kevin Turner former COO of Microsoft
Endorsements
"No one understands time management and productivity better than the researchers and consultants of FranklinCovey. The 5 Choices provides new, exciting, and above all, practical insights that can help you cope with your overwhelming workload and realize your full potential, in and out of work."
Dr. Heidi Grant Halvorson Ph.D., Associate Director, Motivation Science Center, Columbia Business
Endorsements
"As a working mom I have a very full life at home and at work. Staying productive is an extraordinary feat. The 5 Choices: The Path to Extraordinary Productivity brings together some of the best principles of Dr. Stephen Covey with the best thinking of how to better use my time, my technology, and my brain in order to keep my projects, my sanity, and most importantly my most important relationships prioritized. Extraordinary indeed!"
Jill Clark Global Vice President, Talent Management, JDA–The Supply Chain Company
Endorsements
"The 5 Choices: The Path to Extraordinary Productivity includes the perfect blend of time management and prioritization tips, neuroscience research application, ways to address feeling overwhelmed with technology, and guidelines on how to manage our mental and physical energy. Utilizing the tools and recommendations provided will give you greater success at work and even more importantly, greater health and balance in everyday life."
Brandon Wade Anderson Ph.D., Director, Organization Development & Talent Management, Transamerica, Inc.
Endorsements
"I live a hectic, high-energy and sometimes overwhelming life. As an executive for a large company, working mom and the wife of a NCAA Division I head coach, I constantly feel like I am swimming upstream—up early, getting kids to school, business travel, conference calls, meetings, after-school activities, and community events. While recovering from a serious horseback riding accident I read The 5 Choices and have applied its timeless principles, tips and techniques for managing my life, not just my work or time. I have had great results, which have allowed me to spend more time with family, coach my work team, and recover my health. If you live a hectic life or you want to be more fulfilled The 5 Choices is a must read."
Tabetha Taylor Senior Director, Learning & Delivery, Manheim| AutoTrader
Endorsements
"Sometimes in life you happen upon a 'game changer,'….that thing you realize can radically alter perceptions and outcomes. As I digested the principles and tools shared in The 5 Choices: The Path to Extraordinary Productivity, I realized I had indeed found a game changer. The 5 Choices gave me the insights and tools that would enable me to raise my personal bar, live in greater alignment, and increase the probability of achieving those goals that mattered most personally and professionally."
Jeff Hill Senior Vice President, Global Sales, Team BeachBody
Endorsements
"In The 5 Choices, the 'aha' for me is that busy does not mean important. So, busy is not the badge of honor, rather it is accomplishment of the important. That one paradigm shift is changing my life and the lives of those around me."
Kimo Kippen Chief Learning Officer, Hilton Worldwide University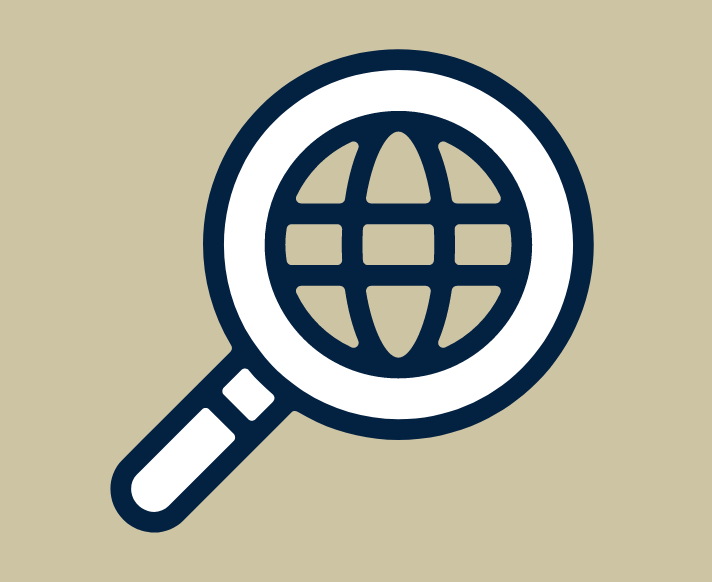 Questions? We have answers.
Review a list of commonly asked questions or contact us to speak with a FranklinCovey representative.