What is Principle-Centered Leadership?
In essence, Principle-Centered Leadership refers to using the compass of correct principles, always pointing True North, to guide one's life and one's organization.
Principle-Centered Leadership is a long-term, inside-out approach to developing people and organizations. In order to deal with any challenges that you'll face in the future, you need to develop a principle-centered core within yourself. Leaders with this mindset increase quality and productivity, but also experience a new appreciation of the importance of building personal and professional relationships. The result is a more balanced, rewarding, and effective life.
Take Leadership Assessment
"This program provided the toolset and compass to chart my own path! It helped me bolster my personal habits to become more effective in my day-to-day, including in my relationships and in becoming more balanced and well-rounded."
– Cameron Raterink
Experience all four courses.
Complete all four FranklinCovey leadership courses and submit a leadership portfolio to become a principle-centered leader. While you can complete the courses on your schedule, we recommend the 16-week schedule outlined below.

Self-Paced
Start today and move at your own pace.
Weeks 1-8
Complete the following courses together.
The 7 Habits of Highly Effective People®
Provides a framework for personal and professional effectiveness—increasing responsibility, purpose, productivity, restoring balance, and developing collaborative relationships.
The 4 Essential Roles of Leadership™
Establishes four roles that are highly predictive of success—focusing on trust, vision, strategy execution, and unleashing potential.
Weeks 9-16
Complete the following courses together.
Leading at the Speed of Trust®
Guides individuals, leaders, and organizations to become explicit and deliberate about creating high trust to reap the results of speed, innovation, and collaboration
The 4 Disciplines of Execution®
Guides leaders in applying a disciplined process to help their people identify and execute their highest priorities.
Master 30 leadership skills.
As you embark on this program, you will learn 30 leadership skills along the way that represent the most in-demand competencies in the workplace today, based on timeless principles of effectiveness. In the chart below, you will see these 30 skills across three broad categories: personal effectiveness, interpersonal effectiveness, and strategic leadership.
Personal
Effectiveness
Responsibility
Initiative
Personal Vision
Self-Discipline
Integrity
Time Management
Productivity
Goal Achievement
Credibility
Wellness
Interpersonal
Effectiveness
Relationships
Communication
Valuing Differences
Collaboration
Negotiation
Conflict Management
Building Trust
Influence
Emotional Intelligence
Providing Feedback
Strategic
Leadership
Decision Making
Team Vision
Setting Strategy
Holding Others Accountable
Aligning Systems
Empowering Others
Building Culture
Coaching
Talent Management
Execution
We're redefining leadership.
Leadership is more than just a position. It's about moving from formal authority to moral authority.
If "soft skills" are so soft, then why are they so critical to success? In reality, soft skills are essential career and leadership skills we all need to develop. Anyone can be a leader by intentionally leading one's own life and encouraging greatness in others. Leadership skills can be learned and developed by anyone, enabling professionals to contribute in any environment at a high level, regardless of a managerial role or current status. This program helps leaders achieve primary greatness by developing qualities like integrity, service, responsibility, loyalty, reciprocity, and fairness.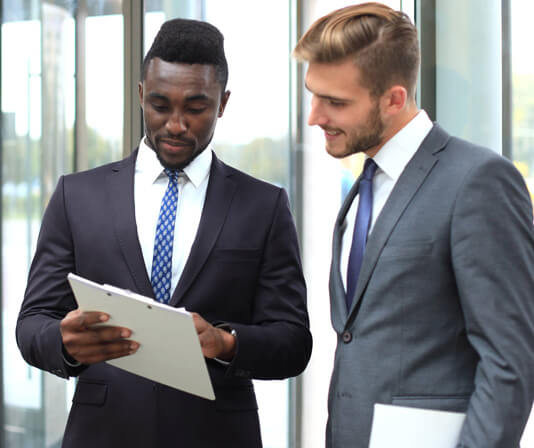 Receive a Certificate of Mastery in Leadership.
Complete the 4 leadership courses and submit a final leadership portfolio to earn a Certificate of Mastery in Leadership – the highest credential that FranklinCovey bestows, recognized by employers around the world.
View Mastery Certificate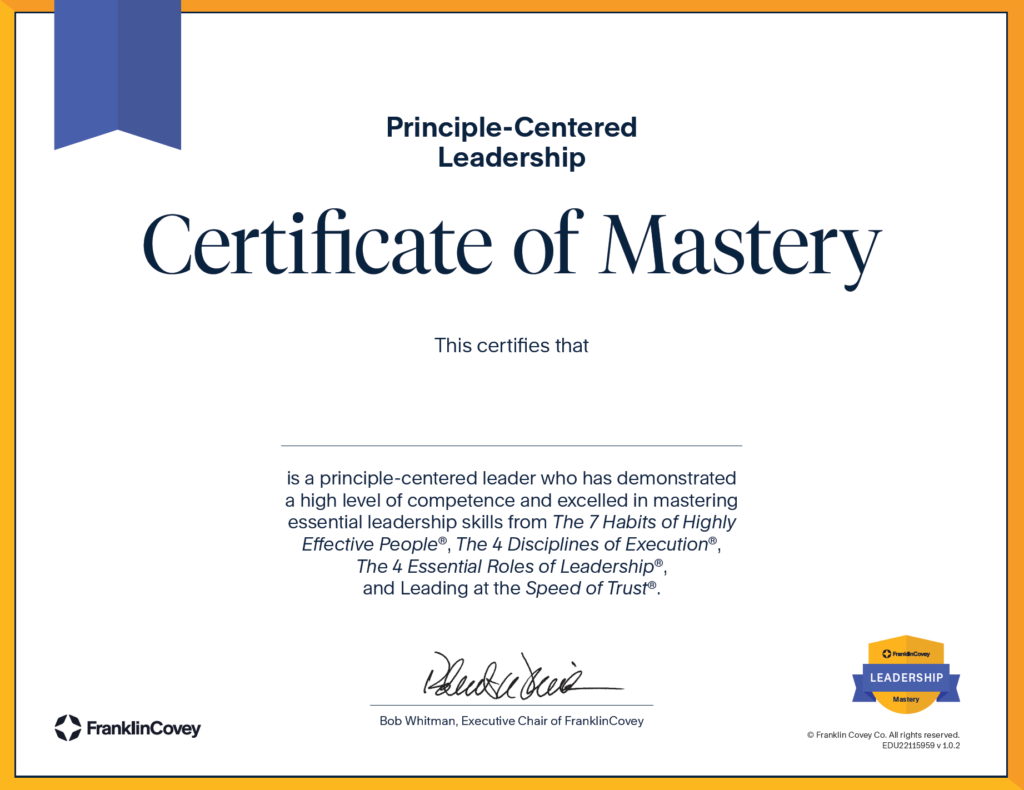 The 7 Habits of Highly Effective People online course.
Leading at the Speed of Trust online course.
The 4 Essential Roles of Leadership online course.
The 4 Disciplines of Execution online course.
Leadership program assessment (portfolio submission, presentation, and evaluation)
$3,249
$5,495
Time to completion: 16-weeks estimate
12-month access to program courses, exams, and resources
Buy Now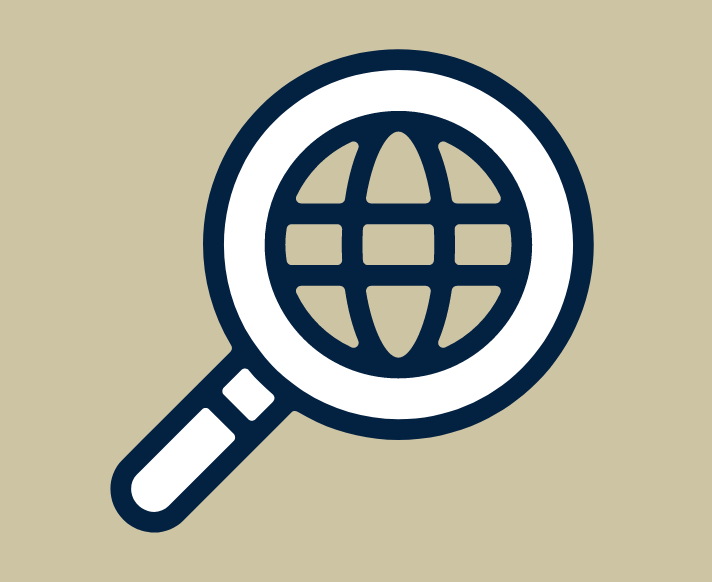 Questions? We have answers.
Review a list of commonly asked questions or contact us to speak with a FranklinCovey representative.