Stand Out In the Market
Add a valuable certificate to your resume.

Advance Your Career
Increase your value and contribution.

Become a Great Leader
Develop indispensable skills and thrive.
Credentials for a modern workforce.
There are skills you need for one job, and then there are skills you need for every job. Essential skills such as communication, leadership, execution, time management, trust, emotional intelligence, and inclusion make all the difference to your success in the 21st century workplace.
View Certificates
72%
---
of hiring managers are more likely to hire a candidate with a FranklinCovey certificate. (FranklinCovey 2019 Study)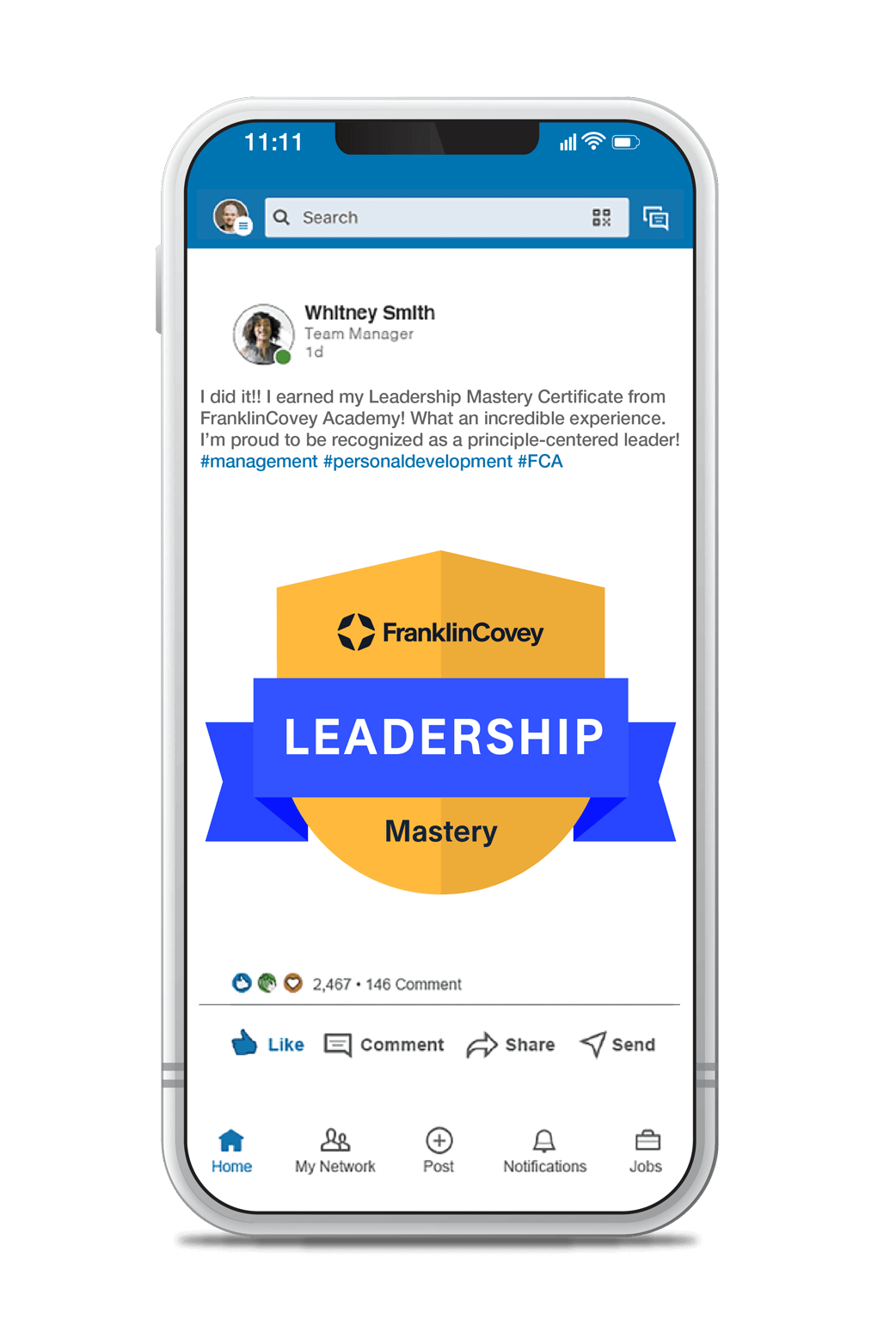 Experience transformational change
FranklinCovey will transform your ability to increase trust with others, communicate powerfully, execute your ideas, improve effectiveness, and more. Our online courses are unmatched in the following ways:

Award-Winning Content
Learn from inspiring courses based on global bestselling books and award-winning videos.

Impact Coaching
Work with a coach to ensure you are applying the course material and improving your results and impact.

Expert Instruction
Top-rated FranklinCovey consultants provide expert instruction, including personal insights and experiences.

Practical Application
Course concepts are pragmatic and actionable, having been tested and refined in real world work environments.

Professional Assessments
Our innovative approach assesses real-world application of knowledge and skills to various work and life situations.

Professional Certificates
FranklinCovey professional certificates carry a high reputation and are valued by employers throughout the world.
View Courses
Become a principle-centered leader.
Our flagship program, the Principle-Centered Leadership Program, teaches you the character, mindset, and principles to take your leadership to a whole new level. You can't be an expert at everything, but isn't it worth mastering the leadership skills that are vital to your career growth and success?
Learn More
Testimonials.
"FranklinCovey courses are incredibly powerful. The tools and frameworks are so memorable; I go back to it again and again to solve work problems, relationship issues, and manager challenges."
Richard, Professional Services
"FranklinCovey content has, without question, changed my life and career. I have truly reached heights I never dreamed possible thanks to the principles and concepts I learned."
Our legacy of leadership.
For over 30 years, FranklinCovey has trained leaders from the most respected organizations in the world, including Fortune 500 companies, government agencies, and educational institutions.
About FranklinCovey
300K
leaders in 17,000 work units of 1,100 organizations have been studied/interviewed.
60M
copies of bestselling books have been sold, including The 7 Habits of Highly Effective People®.
150+
countries throughout the world have organizations implementing courses from FranklinCovey.
80%
of Fortune 500 organizations have worked with FranklinCovey.