Why FC Academy?
FranklinCovey's powerful leadership and effectiveness courses—used by enterprise clients around the world—are now available to individuals through FranklinCovey Academy.
Invest in your future.
How can you get a promotion, earn the raise, receive a new job offer, or simply become a better leader?
With a FranklinCovey certificate, you will gain the relevant mindset, skillset, and toolset for success. And more importantly, you will build your confidence towards making a significant impact in any profession because of your training and preparation.
Because FranklinCovey Academy courses are based on universal principles, the skills you will master are relevant to any role or industry. If you need to become a better leader or more valuable employee, FranklinCovey Academy is the right place for you.
"Two-thirds of team leaders (e.g. managers, directors, executives) say that FranklinCovey courses directly helped their employees enhance their skills and advance in their organization."
– FranklinCovey Study 2019
"93% of team leaders (e.g. managers, directors, executives) say that the soft skills taught by FranklinCovey are "absolutely essential" or "very important" to an employee's long-term success in their organization."
– FranklinCovey Study 2019
Achieve your career goals.
Whether you have ambitious career goals or simply want to make a greater impact and contribution where you're at, FranklinCovey Academy can help you get there.
Stand Out in the Job Market
According to the U.S. Census bureau, more Americans than ever have a bachelor's and/or master's degree. Apart from getting a degree and job experience, what else will signal to employers that you have the right skills for the job? FranklinCovey can give you that edge—the advantage you need to stand out in a highly competitive job market.
Advance Your Career
FranklinCovey credentials give you immediate impact in all the areas you need to advance within your organization or industry. Your path to getting more career opportunities starts with having the most relevant mindset, skillset, and toolset. FranklinCovey helps you learn the key competencies and practices needed to succeed as a credible worker or leader in any organization.
Become a Great Leader
How principle-centered are you as a leader? How strategic are you? Do you consistently deliver results? Do you inspire, motivate, and unleash the potential of your team? Most leaders do not live up to their full potential on these questions. FranklinCovey will provide you with the frameworks, concepts, and attitudes to become a great leader, capable of creating monumental change and progress.
Build Your Value
If you are looking to increase your earning power or establish your perceived value, you must broaden your contribution across your organization and deepen the impact of your work. FranklinCovey programs and courses will give you the perspectives, abilities, and confidence to help boost and reinforce your value.
The world is changing.
We live in the information age, and the trend is shifting in favor of more highly skilled knowledge-workers. According to the 2018 Future of Jobs Report, 75 million jobs are expected to be displaced by 2022 in 20 major economies. So what is causing the skills gap? Here are three key factors:

Acceleration in Technology
Continual developments in technology require unique skills that are necessary for most organizations (37%).
(WES/FW)

Unprepared Management
Fast growth leads to lack of talent capable of moving into management positions with leadership skills (31%).
(WES/FW)

Essential Skills Are Missing
Candidates are lacking identifiable hard and soft skills that stand out in a competitive job market (30%).
(WES/FW)
There's compelling evidence the skills gap is real
Recruiters are saying the workforce simply lacks the hard and soft skills needed to fill the ever-increasing number of high-skilled jobs today. Those jobs range from entry-level positions for college graduates to leadership roles within an organization. Human resource leaders reported that the skill gap grew 12% since last year (WES/FW). If there's clearly a gap today, what will it look like in the future?
45%
of employees will require significant up-skilling by 2022. (World Economic Forum)
75%
of those having hiring difficulty, believe there is a skills shortage among their applicants. (SHRM)
70%
of team disengagement is linked to unprepared leadership. (Gallup)
83%
of employers have had trouble recruiting in the past 12 months because of skills gap. (SHRM)
An inside-out
approach.
Organizations and institutions are looking for ways to address the soft skills gap from the outside-in. FranklinCovey courses are based on timeless principles of effectiveness with an inside-out approach.

Outside-In
Society wants a quick fix to solve problems. Leadership skills and techniques are important to develop, but real behavior change to become a great leader is challenging. Stephen R. Covey (author of the 7 Habits of Highly Effective People) taught that "You simply can't think efficiency with people. You think effectiveness with people and efficiency with things." An outside-in approach ignores the four human endowments that are essential to behavior change: self awareness, conscience, independent will, and creative imagination.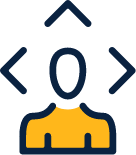 Inside-Out
Rather than focus directly on the leadership skills and techniques that need to be improved, it is more effective to start by helping you reflect on your own character and paradigms. FranklinCovey will help you see leadership with a whole new perspective. In this process, you will identify your strengths and weaknesses, as well as the root cause for the actions you take. FranklinCovey Academy instructors will help you adopt this same See-Do-Get model in preparing you to become a principle-centered leader in order to achieve lasting results.
How do you get started?
Get started in a Program or course. Start advancing your career and achieving your full potential.
The FranklinCovey advantage.
For over 30 years, FranklinCovey has trained leaders from the most respected organizations in the world, including Fortune 500 companies, government agencies, and educational institutions.
About FranklinCovey
300K
leaders in 17,000 work units of 1,100 organizations have been studied/interviewed.
60M
copies of bestselling books have been sold, including The 7 Habits of Highly Effective People®.
150+
countries throughout the world have organizations implementing courses from FranklinCovey.
80%
of Fortune 500 organizations have worked with FranklinCovey.